The petite brunette with the big ponytail and big voice hasn't always looked the same. Believe it or not, Ariana Grande once experimented with different hairstyles, and she wasn't always so thin and petite.
RELATED:
Ariana Grande's Dating History
We've scanned the internet far and wide for photos of Ariana Grande before and after to prove just how much the popstar has changed over the years.
What Did Ariana Look Like When She Was Young?
Once upon a time, before the dainty diva became the pop princess of our generation, Ariana sported natural dark curls, and probably a lot less cat-eyeliner.
Born to Italian parents, Joan Grande and Edward Butera, the Sweetener star let her Mediterranean looks shine when she was just a young (and toothless) girl.
---
RELATED:
20 Celebrities When They Were Young
---
Long before her days as a singer (and that huge ponytail), the Thank U, Next artist started her days off as a Broadway superstar, starring in productions like Wizard of Oz, Annie and 13.
So, what changed? It's safe to say Ari has gone through a shocking transformation over the years. This before and after photo might surprise you…
Before fame and prior to turning into a red vixen, Ari looked like your regular girl-next-door. These then and now images of Ariana show her as a young teen next to her 'Dangerous Woman' era.
As she got a little older, Ariana went on to become a Nickelodeon sweetheart. Her Sam & Cat and Victorious days saw the singer donning fiery red locks and looking totally different from her usual self!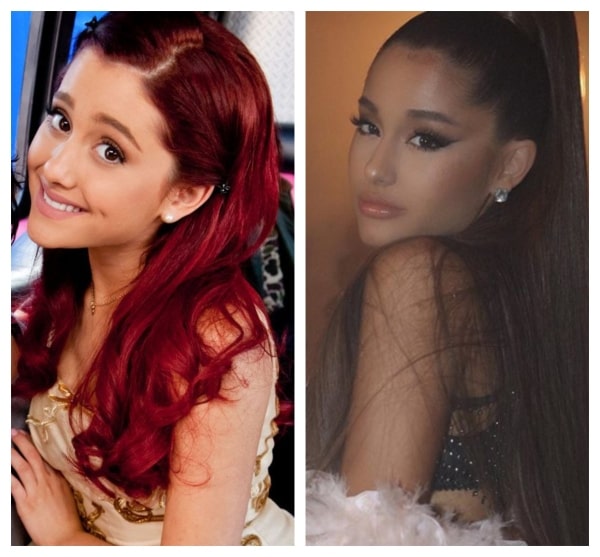 Ariana's lips were thinner, her hair was a totally different color, her nose looked poles apart from what it is now, and her body was a lot fuller.
Has Ariana Grande Had Plastic Surgery?
To be fair, the Dangerous Woman's drastic change is probably due to simply growing up. Some of these photos were taken over 10 years ago, after all. However, some believe Ariana has undergone plastic surgery…
It's thought she may have had a brow lift, a nose job and lip injections.
---
WATCH:
Ariana Grande Impersonates Other Singers
---
Or perhaps it's makeup tricks using her latest r.e.m Beauty cosmetics. Simple highlighting and contouring techniques can transform everything – including the nose.
As a young girl with zero fake lashes, amateur makeup and basic lipstick, these photos of Ariana side-by-side are truly mind-blowing. It's amazing what makeup can do!
There's no doubt that Ariana also likes to wear a bit (too much) of tan to spice up her look. Makeup and tan combined have certainly transformed Ariana into somebody new.
Before fame, it was very rare to see Ariana swear by an up-do. She was so proud of her red hair, that she'd almost always wear it down, and straight.
Here's an interesting fact about Ariana – the over-dying and straightening of her hair caused hair-loss, hence the reason why she now wears it up so often.
Why Did Ariana Grande Lose So Much Weight?
The biggest and most obvious change in these photos is Ariana's weight. Losing a few pounds may have contributed to this drastic transformation.
Extreme weight loss can after all, make you look like a totally different person.
In 2023, Ariana caused a stir when unveiling her latest look, which to many fans, looked "unhealthy" and extremely "concerning". During her time filming the upcoming Wicked movie, Ari shockingly dyed her hair, bleached her eyebrows blonde and appeared looking worryingly skinny.
Before and after photos of her physical appearance made the rounds on social media, with comments claiming Ariana looked "different" and "anorexic".
But some fans came to her defense, saying it was merely her change in makeup and hair color that made her look so different.
With so much talk about Ariana Grande's weight loss and "skinny" appearance, the famous star had no choice but to come forth with a statement, reassuring fans that she was in fact, "healthy". She urged her followers to be more mindful before sharing their opinion about her changing appearance.
Ariana also admitted that "the body that you've been comparing my current body to was the unhealthiest version of my body," revealing that she was on "a lot of antidepressants and drinking on them and eating poorly," at the time.
So, she may have cut the carbs, stepped up her makeup game and adopted a signature ponytail to change her look, but one thing Ariana hasn't changed is her voice, and that's all that really matters!
As long as Ariana stays healthy and continues giving us chills with her vocals, she can look how she wants.
Stay cute, Ari!
Oh and just for fun, we've also got a photo of Ariana way, way before her days of being Grande. Prepare yourself – this baby photo of Ari might make you swoon!
This article was originally published in May 2016.
READ NEXT:
The Best Ariana Grande Merch For Fans
---